ウィークエンドサンシャイン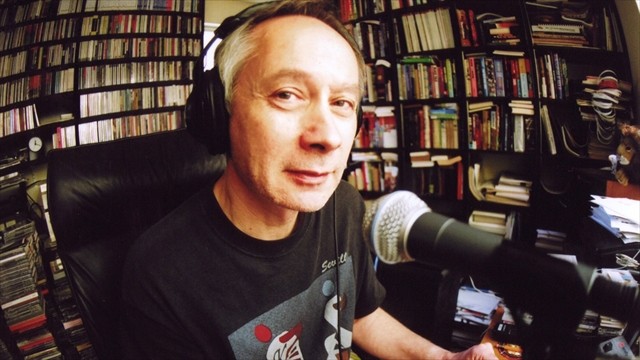 ブロードキャスター、ピーター・バラカンのナビゲートで送るウィークエンド・ミュージックマガジン。独特の嗅覚とこだわりの哲学でセレクトしたグッド・サウンドと、ワールドワイドな音楽情報を伝える。
http://www4.nhk.or.jp/sunshine/
放送日: 2017年12月23日(土)
放送時間: 午前7:20〜午前9:00(100分)
ピーター・バラカン
THIS WEEK'S PLAYLIST
http://www4.nhk.or.jp/sunshine/66/
(曲名 / アーティスト名 // アルバム名)
01. Straight To Hell / The Clash // From Here To Eternity
02. Don't Put It Off 'Til Tomorrow / The Blockheads // Beyond The Call Of Dury
03. I Forgot That Love Existed / Van Morrison // Versatile
04. Unchained Melody / Van Morrison // Versatile
05. Matter Of Time / Sharon Jones & The Dap-Kings // Soul Of A Woman
06. Ain't No Chimneys In The Projects / Sharon Jones & The Dap-Kings // It's A Holiday Soul Party
07. Christmas (Baby Please Come Home) / Darlene Love // A Christmas Gift For You from Phil Spector
08. Please Come Home For Christmas / Southside Johnny Lyon // Home Alone
09. Christmas Can't Be Far Away / Nick Lowe // Quality Street
10. Go Where I Send Thee / Alphabetical Four // Cool Blue Christmas - Christmas In Jail (Ain't That A Pain) - Classic Pre-War Christmas Cuts 1928-44
11. I Want My Baby For Christmas / Jimmy Liggins // Cool Blue Christmas: Mr. Santa's Boogie - Classic R&B/Blues Christmas Cuts, 1949-53
12. Empty Stocking Blues / Floyd Dixon w. Johnny Moore's Three Blazers // Cool Blue Christmas: Mr. Santa's Boogie - Classic R&B/Blues Christmas Cuts, 1949-53
13. Needed Time / Lightnin' Hopkins // Mojo Hand: The Lightnin' Hopkins Anthology
14. River / James Taylor // A Tribute To Joni Mitchell
15. Let It Snow, Let It Snow, Let It Snow / Ella Fitzgerald // Ella Wishes You A Swinging Christmas
16. Zydeco Christmas / C.J. Chenier and the Red Hot Louisiana Band // Genuine Houserockin' Christmas
17. Must Be Santa / Brave Combo // It's Christmas, Man!
18. Do You Hear What I Hear? / Jerry Douglas // Jerry Christmas
19. Merry Christmas Baby / Otis Redding // Soul Christmas
20. Hey Santa Claus / The Moonglows // Cool Blue Christmas: Mr. Santa's Boogie - Classic R&B/Blues Christmas Cuts, 1949-53
21. White Christmas (Live) / Charlie Parker Quintet // Cool Blue Christmas - We Free Kings - Classic Jazz Christmas Cuts, 1948-63
世界の快適音楽セレクション
"快適音楽"を求めるギターデュオのゴンチチによる、ノンジャンル・ミュージック番組。
http://www4.nhk.or.jp/kaiteki/
放送日: 2017年12月23日(土)
放送時間: 午前9:00〜午前11:00(120分)
ゴンチチ
藤川パパQ
− 電気の音楽 −
楽曲
「電気ウナギ」
チチ松村
(5分29秒)
<IN THE GARDEN XNHL-12001>
「デンキ」
小川美潮
(5分57秒)
<EPIC/SONY ESCB1120>
「バロック・ホーダウン」
ペリー・キングズレイ
(2分24秒)
<VANGUARD REC. VCD71/72>
「ビーチだよ!電気グルーヴ」
電気グルーヴ
(4分17秒)
<SONY REC. SRCL-2245>
「トム・キャット」
マディ・ウォーターズ
(3分40秒)
<UNIVERSAL UICY-75952>
「シシー」
ジャンピエーロ・ボネスキー
(3分18秒)
<NO INFORMATION NO NUMBER>
「電線音頭」
デンセンマン、伊東四朗、小松政夫、スクール・メイツ・ジュニア
(3分42秒)
<POLYSTER MTCC-1002>
「エレクトリック・カフェ」
クラフトワーク
(4分17秒)
<EMI CDP564-7 46420-2>
「エレクトリックおばあちゃん」
ザ・スパイダース
(2分53秒)
<テイチクレコード TECH-25043>
「サンダーストーム」
リード・マティス
(5分50秒)
<ROYAL POTATO 020286 22240>
「トゥルース・イン・ピース」
ワルター・ワンダレイ
(2分33秒)
<POLYDOR POCM-5055>
「ゲット・イット・オン」
ティー・レックス
(4分24秒)
<テイチクレコード TECX-18818>
「「電気ショック」(軍楽隊のための輝かしい小行進曲)」
(作曲)
(管弦楽)ミラノ・ジュゼッペ・ヴェルディ交響楽団
(指揮)リッカルド・シャイー
(1分45秒)
<UNIVERSAL CLASSICS&JAZZ UCCD-1112>
「スカル&クロス・ボーンズ」
スライ&ロビー
(2分56秒)
<ISLAND REC. PHCR-6731>
「エレクトリック・シティ」
チック・コリア・エレクトリック・バンド
(4分08秒)
<UNIVERSAL UCCR-3010>
「ウー・バーン」
ビル・ローレンス
(6分44秒)
<GROUND UP MUSIC NO NUMBER>
「ふしぎなでんき」
中野慶子
(1分19秒)
<キングレコード SKH26>
「テンプロ」
ゴンチチ、アート・リンゼイ
(3分28秒)
<SO WHAT? ESCB2004>
「オー・レディ・ビー・グッド(バンド)」
エラ・フィッツジェラルド
(3分57秒)
<POLYGRAM 314517 900-2>
「オー・レディ・ビー・グッド(オーケストラ)」
エラ・フィッツジェラルド
(3分59秒)
<REAL GONE RGJCD458>
「つむじ風」
ドミニック・クラヴィク、ダニエル・コラン、クレール・エルジエール
(2分08秒)
<リスペクトレコード RES-301>
「銀の雫」
マリヤ・モッテンソン
(3分53秒)
<キーヒト・ミュージック KJT-002>
Another Country with Ricky Ross
Ricky Ross enters the landscape of Americana and alternative country. Expect to hear both classic and future classics, with Ricky taking a close look at the stories behind the songs
http://www.bbc.co.uk/programmes/b00hh26l
The Best Music of 2017, Part 2
Tue 19 Dec 2017
21:00
BBC Radio Scotland
http://www.bbc.co.uk/programmes/b09jhmfj
Ricky Ross showcases his favourite music of the year as played on Another Country - a guide to the best Americana and Country releases of 2017.
Music Played
アーティスト:

Nikki Lane

出版社/メーカー:

New West Records

発売日:

2017/02/17

メディア:

CD
01. Jackpot
Nikki Lane
Highway
Queen
02. Blue Christmas
Ernest Tubb
The Yellow Rose of Texas
Bear Family Records
03. Air Mail Special
Marty Stuart
Way Out West, Tr.9
Superlatone
04. Everyone's Looking For Home
Sam Outlaw
Tenderheart, Tr.1
Six Shooter
05. Can't Stop Shakin'
Whitney Rose
Rule 62, Tr.6
Six Shooter Records
06. Wrong Man
John Murry
A Short History Of Decay, Tr.3
TV Records Ltd.
07. Old Toy Trains
Glen Campbell
That Christmas Feeling, Tr.2
Capitol Records
08. Bless My Heart
Angaleena Presley
Wrangled, Tr.6
Thirty Tigers
09. Hotel Amarillo
Caroline Spence
Spades and Roses
10. Witness
Benjamin Booker & Mavis Staples
Witness, Tr.3
ATO Records
11. Rose
3Hattrio
Solitaire, Tr.2
Okehdokee Records
12. Sallisaw Blue
John Moreland
Big Bad Luv, Tr.1
4AD
13. Señor Santa Claus
Jim Reeves
Twelve Songs of Christmas, Tr.3
RCA Victor
14. Bobby Fuller Died For Your Sins
Chuck Prophet
Bobby Fuller Died For Your Sins, Tr.2
Yep
Roc
Records
15. How Quickly Your Heart Mends
Courtney Marie Andrews
Honest Life, Tr.4
Loose
16. Never One Thing
Daisy May
Mother Lion, Tr.5
17. Maybe A Moment
Justin Townes Earle
Kids In The Street
New West Records
18. Barbary Coast (Later)
Conor Oberst
Salutations, Tr.9
Nonesuch
19. Motion Sickness
Phoebe Bridgers
Dead Oceans
20. Queens Of The Breakers
The Barr Brothers
Queens Of The Breakers
Secret City Records
21. Your Loving Saves Me
Jamie Wyatt & Sam Outlaw
Felony Blues, Tr.2
Forty Below
22. You Don't Own Me Anymore
The Secret Sisters
You Don't Own Me Anymore, Tr.9
New West Records
23. Come Closer
Joana Serrat
Dripping Springs, Tr.8
Loose Music
24. (There'll Be) Peace in the Valley (For Me)
Johnny Cash & The Carter Family
The Best of Johnny Cash, Tr.20
Spectrum Music
Jazz Record Requests
Jazz records from across the genre, played in special sequences to highlight the wonders of jazz history. All pieces have been specifically requested by Radio 3 listeners
http://www.bbc.co.uk/programmes/b006tnn9
A Bach Christmas
Sat 23 Dec 2017
16:00
BBC Radio 3
http://www.bbc.co.uk/programmes/b09k5q47
Listeners' suggestions for jazz and Bach presented by Alyn Shipton include music from Django Reinhardt, Bill Evans, Lee Konitz, the Swingle Singers, and Jacques Loussier. Plus contemporary jazz interpretations of Bach from Tim Garland and Cyrus Chestnut.
Music Played
01. 2-Part Invention No.1 - Allegro
Lee Konitz & Warne Marsh
Composer: J S Bach
Performers: Lee Konitz, as; Warne Marsh, ts.
Dec 1975
Live at The Montmartre Club, Vol.2
Storyville STCD 8202 Tr.4
02. Toccata and Fugue in D Minor BWV 565
Jacques Loussier
Composer: J S Bach
Performers: Jacques Loussier, p; Pierre Michelot, b; Christian Garros, d.
1959
Play Bach 1, 2 and 3
American Jazz Classics 99114 CD1 Tr.5
03. Improvisation Sur le Premier Mouvement du Concerto en Re Mineur de J S Bach
Django Reinhardt
Composer: J S Bach
Performers: Eddie South, Stephane Grappelli, vn; Django Reinhardt, g.
25 Nov 1937
Swinging With Django
Naxos 8 120698 Tr.19
04. Chromatic Fantasy/ Blackbird
Jaco Pastorius
Composers: J S Bach/ Lennon & McCartney
Performers: Jaco Pastorius, elb; Toots Thielemans, hca; plus Word of Mouth big band
1981
Word of Mouth
Warner 93624 8246-2 Trs.4 & 5
05. Variations 36, 37 & 38
Uri Caine
Composer: Bach arr. Caine
Performers: Ralph Alessi, t; Greg Osby, as; Todd Reynolds, vn; Uri Caine, p; James Genus, b; Reggie Washington, elb; Ralph Peterson, d; Milton Cardona, per; Marco Bermudez, v.
2000
The Goldberg Variations
Winter and Winter 910-054-2 CD1 Trs.36, 37 & 38
06. Baroque Impressions
Cyrus Chestnut
Composer: Bach arr. Chestnut
Performer: Cyrus Chestnut, p.
1995
The Dark Before The Dawn
Atlantic 82719-2 Tr.4
07. Valse
Bill Evans
Composer: J S Bach arr. Ogermann
Performers: Bill Evans, p; Chuck Israels, b; Grady Tate, d. Orchestra directed by Claus Ogermann
Oct/Dec 1965
Bill Evans Trio with Symphony Orchestra
Verve 8219832 Tr.2
08. Concerto for Soprano Saxophone - Homage to Father Bach, Movt. 3
Tim Garland
Composer: Garland
Performers: Tim Garland, ss; Northern Sinfonia, dir Bradley Creswick
2009
Celebrating Bach
AB ABCD 5025 Tr.11
09. Gavotte from English Suite No.6
Echoes of Swing
Composer: Bach arr. Dawson
Performers: Colin Dawson, t; Chris Hopkins, as; Bernd Lhotzky, p; Oliver Mewes, d.
Dancing
ACT ACT 9103-2 Tr.5
10. Bach Goes to Town
Benny Goodman
Composer: Templeton
Performers: Benny Goodman, cl; Harry James, Ziggy Elman, Chris Griffin, t; Red Ballard, Vernon Brown, tb; Noni Bernard, Dave Matthews, Art Rollini, Jerry Jerome, reeds; Jess Stacy, p; Ben Heller, g; Harry Goodman, b; Buddy Schutz, d.
15 Dec 1938
The Essential BG
Proper Properbox 109 CD3 Tr.5
11. Bach Up To Me
Fats Waller
Composer: Waller
Performers: Herman Autrey, t; Gene Sedric, cl, ts; Fats Waller, p; Al Casey, g; Charlie Turner, b; Yank Porter, d.
8 June 1936
Complete Recorded Works Vol.3
JSP 946 CD4 Tr.5
12. Fugue in C Minor
The Swingle Singers
Composer: Bach
Performers: Swingle Singers, dir. Ward Swingle
Bach's Greatest Hits
Philips 600097 Side A Tr.6
Geoffrey Smith's Jazz
Geoffrey Smith's Jazz does exactly what it says on the tin: a weekly programme in which Geoffrey Smith shares his love of jazz, through an exploration of its great writers, singers and players, as told from his own individual perspective.
Each programme take us through his personally-selected playlist of tracks. It's loosely-themed; maybe a great artist, a jazz style or something more off-the-wall. But that serves as just the start of a fascinating journey to the heart of the music Geoffrey is so passionate about.
http://www.bbc.co.uk/programmes/b01h5z0s
Ella Fitzgerald
Sun 24 Dec 2017
00:00
BBC Radio 3
http://www.bbc.co.uk/programmes/b09m8n3v
Geoffrey Smith celebrates the centenary of vocal legend Ella Fitzgerald (1917-96) with highlights from her iconic series of Songbooks, including classic tunes by Irving Berlin, Cole Porter, Rodgers and Hart and Duke Ellington.
Music Played
01. Easy To Love
Ella Fitzgerald
THE COLE PORTER SONGBOOK VOLUME 1, Tr.4
VERVE
02. It's All Right With Me
Ella Fitzgerald
THE COLE PORTER SONGBOOK VOLUME 2, Tr.5
VERVE
03. Ev'ry Time We Say Goodbye
Ella Fitzgerald
THE COLE PORTER SONGBOOK VOLUME 1, Tr.11
VERVE
04. The Lady Is a Tramp
Ella Fitzgerald
... SINGS THE RODGERS AND HART SONGBOOK, Tr.6
VERVE
05. With A Song In My Heart
Ella Fitzgerald
ELLA FITZGERALD SINGS THE RODGERS & HART SONGBOOK, Tr.7
VERVE
06. Ev'rything I've Got Belongs To You
Ella Fitzgerald
THE COLE PORTER SONGBOOK VOLUME 2, Tr.22
VERVE
07. Remember
Ella Fitzgerald
THE IRVING BERLIN SONGBOOK VOL.1, Tr.16
08. Alexander's Ragtime Band
Ella Fitzgerald
The Very Best of the Irving Berlin Song Book, Tr.4
Verve
09. Blue Skies
Ella Fitzgerald
Ella Fitzgerald: The Irving Berlin Songbook, Vol.2, Tr.1
Verve
10. You've Got What Gets Me
Ella Fitzgerald
ELLA FITZGERALD SINGS GEORGE AND IRA GERSHWIN SONGBOOK, Tr.8
VERVE
11. Oh Lady, Be Good!
Ella Fitzgerald
ELLA FITZGERALD SINGS THE GEORGE AND IRA GERSHWIN SONGBOOK, Tr.6
VERVE
12. I got rhythm
Ella Fitzgerald
ELLA FITZGERALD SINGS THE GEORGE & IRA GERSHWIN SONGBOOK, Tr.18
VERVE
13. Caravan
Ella Fitzgerald
ELLA FITZGERALD SINGS THE DUKE ELLINGTON SONG BOOK, Tr.4
Verve
14. Drop Me Off At Harlem
Ella Fitzgerald
DUKE ELLINGTON SONG BOOK, Tr.2
VERVE
15. Cottontail
Ella Fitzgerald
Ella & Duke, Tr.11
VERVE